Krash has something cool to share with you!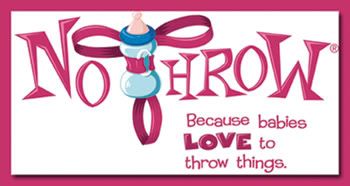 No Throw
 just seemed to be the perfect fit for my little sweetheart Krash. Anyone who has been reading here for any length of time will know why, as I am sure you can imagine him, you know ~throwing things!! 
No Throw
 generously sent us this adorable lime green zoo animals tether strap for Krash to test out…
I immediately loved the color/pattern, and Krash did too, although he had no clue what it was for at first!
Once I showed him he was excited!!! I put it on his car seat first and then we tried it on his stroller…
It worked great both places!!! I now keep it in my van so I can strap his cup on when we get in, we also take it with us if he will be riding in a stroller or store cart at all. I have even used it for Ladybug to strap her toy to her car seat so it wouldn't fall! The best place I have used it is most definitely the grocery cart, it has been a sanity-saver there for sure!
No Throw is a product developed by 2 moms, who are also twin sisters! You can purchase your own No Throw at Walgreens or any of these listed retailers.